A mixed day
Bit wet this morning so did a spot of web surfing and then dreaded shopping.
By noon it had at least stopped raining so set off around some local trails, ended up going through Kelburn and down Fairlie glen.
The glen is choked with brambles, nettles and braken.
It's a popular footpath so you'd think someone from Fairlie would shake up the local council.
Returned over Goldenberry and saw some cute little piglets, there were five folk on Goldenberry, very unusual to see anyone up there at any time.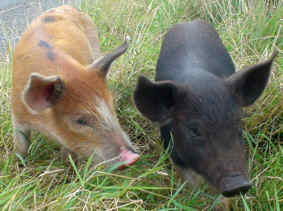 Wind assist along the beach was great back home by 3.45, its still dry out there if it stays that way I may have to cut a hedge.
Picture above is Glentane hillside from my web site
photo trail
.